How to apply
Step 1: Please pay for the preliminary participation fee.
( If you are exempted from preliminary, please pay for the
final.)
Step 2: Sending your performance for Preliminary Judgement.
Please send us your performance by CD,DVD medium.
Or
You-tube up moving image is to be attached with
your application form.
Please write your name,department on the medium if you
postal mail.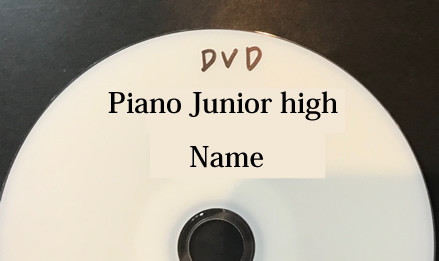 Step 3: Website application.
Please see our home page; http://www.cecilia-imc.com/en/pc/
The period of application; Jan.7-Feb.15, 2019
Players exempted from Preliminary also please apply during
this period.
Please contact us if our confirmation mail does not reach you
within one week after your application.
Participation Fee.

!!The bank transfer fee is borne by participants
Please note that the bank remittance charge is owed by applicants. FYI, we know that the overseas money remittance charge at the Japan Net Bank is below 200 yen which is more economical than other banks.
<<Notice to winners of The OSAKA International Music Competition 2018>>
Winners of The OSAKA International Music Competition 2018 have rights to attend the final round without the preliminary round step in two years.
Please indicate your name and the prize you got from The OSAKA International Music Competition also check the mark of preliminary exemption, download the recommendation and apply for the final round.
We are looking forward to having your application.
Remarks on discount:
1) Early payment; applicable if you pay by Jan.31,2019
2) You-tube price; Applicable you send your medium using you-tube.
3) The fee for the final will be paid after you pass for the preliminary.
4) However,if you are the player exempted from the preliminary, please
Pay for the final fee when you send application to us.
Please send to:
Mitsui Sumitomo Bank, Roppongi Branch,
Futsuu account 7591464 (repeat; 7591464)
a/c name: Cecilia Kokusai Ongaku Konku-ru ,
Daihyo, Yoshikawa Asako
Other Remarks
1) Bank charge will be burden by the applicant. The paid fee
can not be returned to you whatever the reason is.
2) The application fee is different from preliminary and the final.
Be careful.
3) Our clerical procedure for the application will be completed
when your payment and web application are confirmed by us.
4) When you apply, please be precise for the minutes of your
performance, both for preliminary and the final.
5) You will be disqualified if you play different music at the final from applied one.
6) We will inform you by mail, when all the procedure completed.
7) If you want to receive our mail, please be sure to check
your mobile, so that you can receive ours;[ @yahoo.co.jp].
Every year, we found many cases you can not receive our mail
by not domain alteration at your side.
8) Presented material can not be returned. We can not be responsible for the item lost during mailing. Please fill in your mobile no., contact no, precisely for emergency.
9) Please understand any claim will not be accepted.