The application deadline will be postponed to 1/23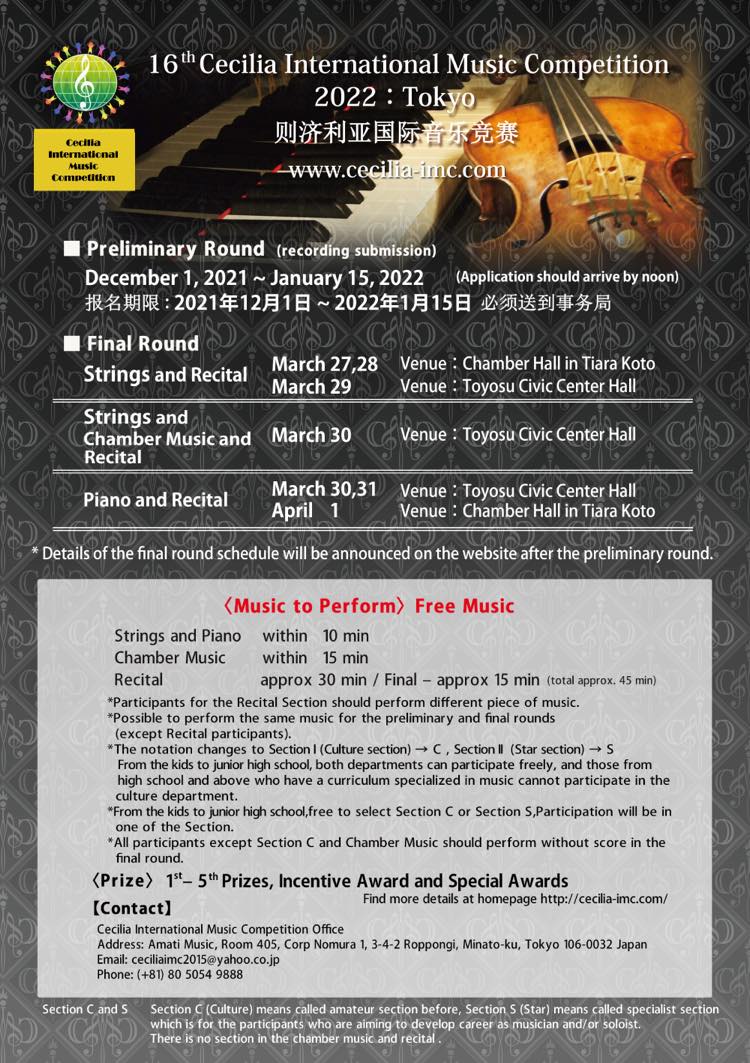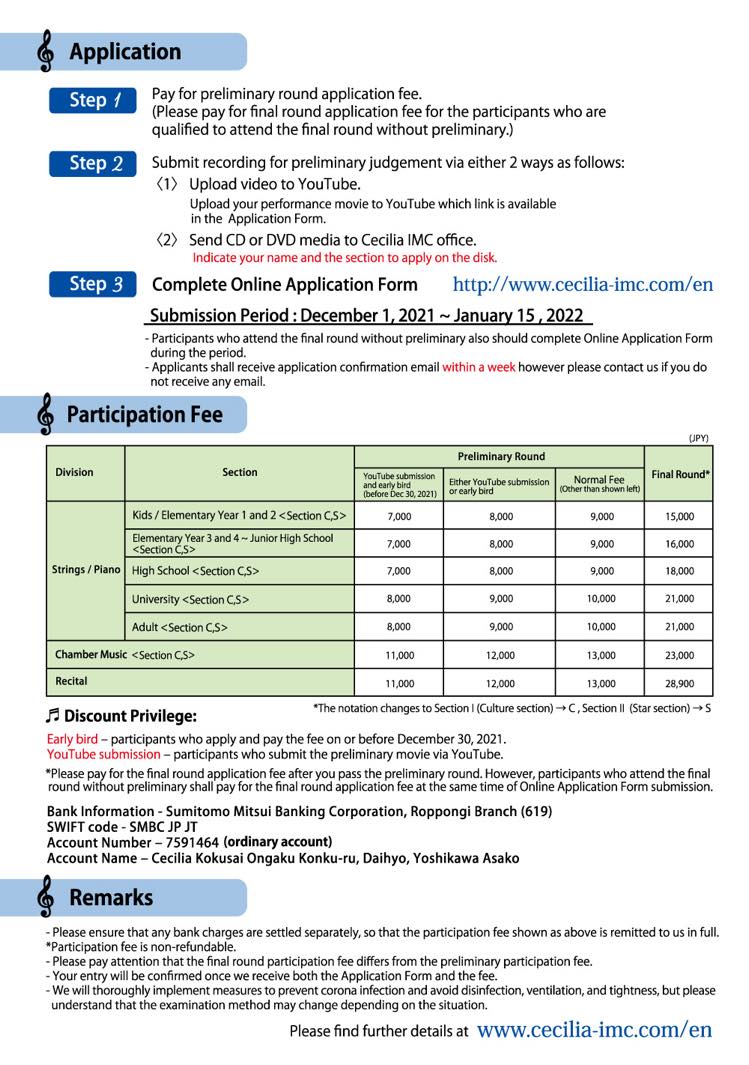 〈Music to Perform〉
Free Music
Strings and Piano within 10 min
Chamber Music within 15 min
Recital approx 30 min / Final – approx 15 min
(total approx. 45 min)
C (culture) / S (star) category
*Please select one category from either C (culture) or S (star). It is not possible to select both.
*Those who have a high school, university, or graduate school degree in music must participate in the S(star) category and will not be eligible for the C (culture) category.
*Those participating in the recital section do not need to select a category.
Other remarks
1;Possible to perform the same music for the preliminary and final rounds (except Recital participants).
2; All participants except Section C and Chamber Music should perform
without score in the final round.
3; Even if you select a song that is longer than the specified amount, it will not affect the judging if you stop playing when the bell rings.
PRIZE
1st – 5th Prizes, Incentive Award and Special Awards
◎Jury Chairman's Award
Among the 1st prize winners, those who have been recommended can perform with the orchestra in Pisa, Italy.
◎Tateshina Music Festival Award
◎Osaka International Music Competition Award
Invitation to master class lessons during the competition
◎Italian Music Festival Seminar Free Invitation
(Travel expenses, hotels and food expenses are not included. Those who do not make a recommendation can preferentially appear in summer music festival classes and concerts.)
◎Speranza premio
◎Prize of Chairman of Cecilia IMC Judge Committee
Cecilia IMC places an award concert co-managed by the Osaka International Music Competition in Carnegie Weil hall every other year.
The picture is a brochure of previous the 1st award concert.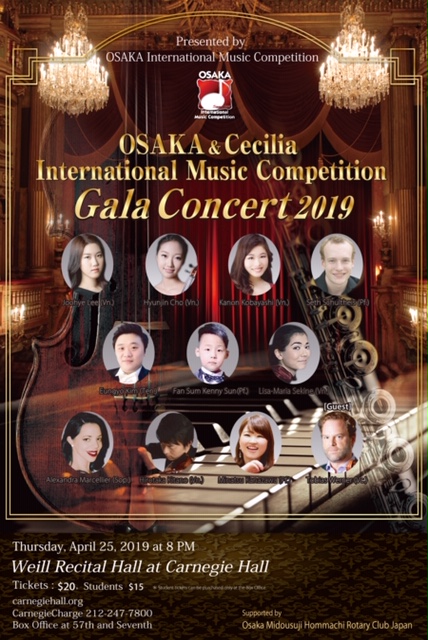 Contact:
Cecilia International Music Competition
Office Address: Amati Music, Room 405, Corp Nomura 1,
3-4-2 Roppongi, Minato-ku, Tokyo 106-0032 Japan
Email: ceciliaimc2015@yahoo.co.jp
Phone: (+81) 70 1570 9888
Emergency Cases
1. In case of disable of all transportations to the competition venue due to emergency such as natural disaster, we might have to cancel the competition.
2. Otherwise, competition schedule may not change and paid fee shall not be refunded for any reasons.
3. In case of competition's cancellation, paid fee shall be hold and deferred to your next application for the completion.
4. You would be able to apply for the alternative competition day. Please email us to apply.
5. We do not cover or support your transportation or accommodation. To make sure to attend the competition, please arrive Tokyo area few days before the competition.