The period of application: Jan.7th(Mon.)-Feb.15th(Fri.),2019
The preliminary competition: by recorded medium.
The final competition: at Urayasu Ongaku Hall.
6-1,1 chome, Irifune, Urayasu-Shi, Chiba-Ken
(Access; from Tokyo Stn. 17min.by Express, on JR Keiyo line
or Musashino line.To get off at Shin Uraysu Stn. 1 min.on foot)
The date of the Final:
3/25 (Mon.) Stringed Dpt.(kids, elementary, and junior dpt.)
3/27 (Wed.) Stringed Dpt. high School, univ.dpt. (amateur/pro)
Univ.over dpt. (amateur/pro)
3/28 (Thu.) Piano Dpt. (kids,elementary,junior dpt.,high school,)
3/29 (Fri.) Piano Dpt. univ. dpt.(amateur,pro)
Univ.over dpt. (amateur/pro.)
4/1 (Mon.) Chamber dpt. Recital dpt.(stringed,piano)
For the preliminary
Selection of the music: Free
Playing time.
Chamber,Piano Dpt; preliminary; within 10 min.
Chamber Dpt;Preliminary; within 15 min.
Recital Dpt: Preliminary; around 30 min. (final: around 45 min.
in total.) Music for the final/preliminary should be different.
Other remarks;
1;The same selection of music for preliminary/final is accepted.
(except Recital Dpt.)
2; For Univ. over and Amateur. Followings can not participate.
Students of music univ., and its graduates.(You can join if you
choose different dpt. from what you studied.)
Players belong to any music related group.
Pro players.
Please see our home page in details.
(PRIZE)
Winners will be given prize for 1st-5th prize and for other special prize.
Prize of Chairman of Cecilia IMC Judge Committee
Cecilia IMC places an award concert co-managed by the Osaka International Music Competition in Carnegie Weil hall every other year.
Next concert is scheduled on Thursday, April 25, 2019.
The picture is a brochure of previous the 1st award concert.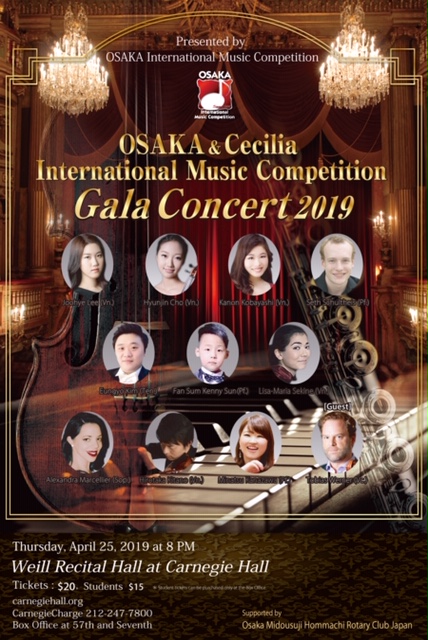 Contact:
Cecilia International Music Competition Office
C/O Amati Music
Room 405, Corp. Nomura 1
3-4-2,Roppongi, Minato-Ku, Tokyo (106-0032)
Mail: ceciliaimc2015@yahoo.co.jp
Tel: 070-1570-9888
Emergency Cases
1. In case of disable of all transportations to the competition venue due to emergency such as natural disaster, we might have to cancel the competition.
2. Otherwise, competition schedule may not change and paid fee shall not be refunded for any reasons.
3. In case of competition's cancellation, paid fee shall be hold and deferred to your next application for the completion.
4. You would be able to apply for the alternative competition day. Please email us to apply.
5. We do not cover or support your transportation or accommodation. To make sure to attend the competition, please arrive Tokyo area few days before the competition.