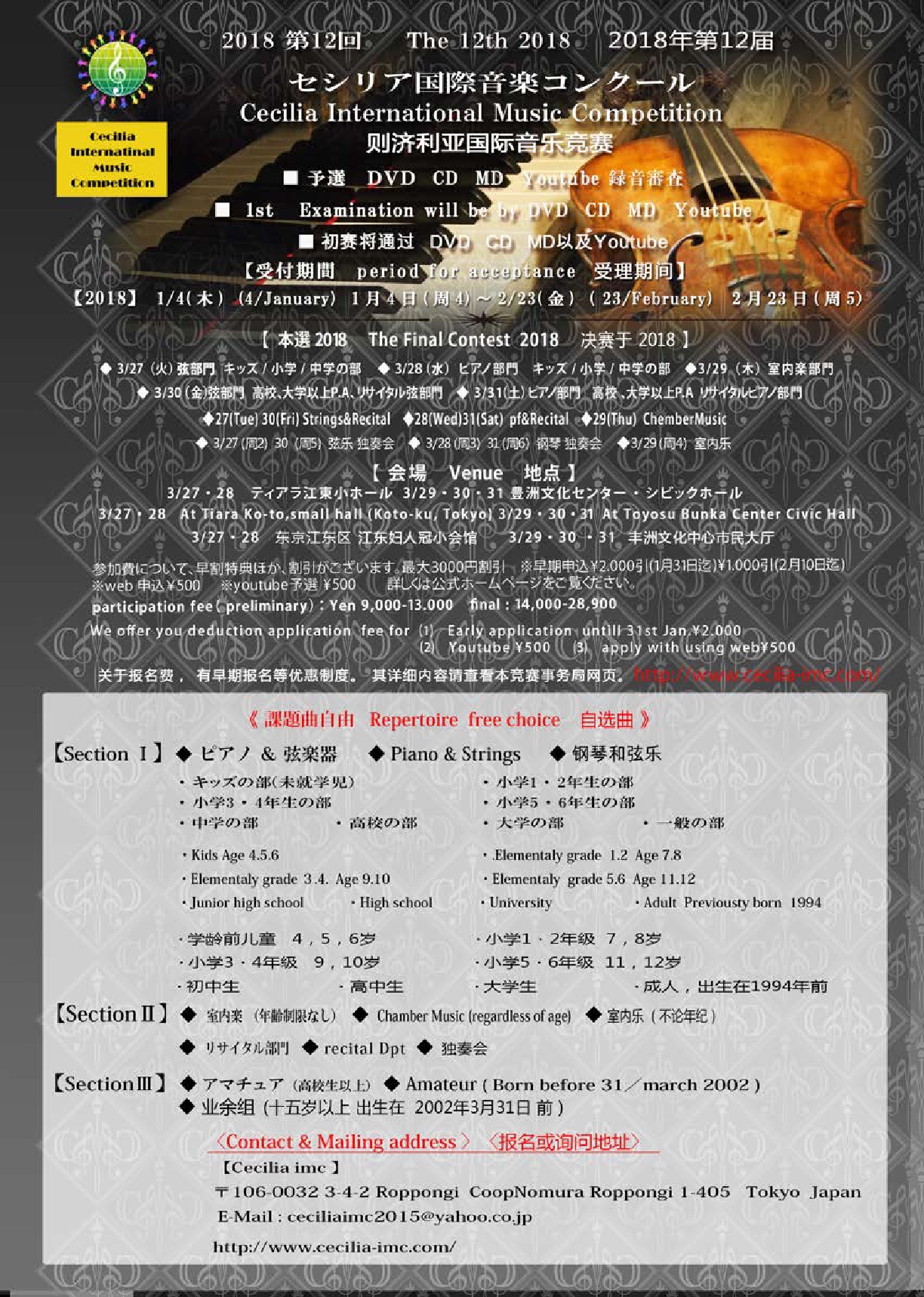 1) Music: You can select any music for the competition.
(Playing time;)
Piano Dpt. Preliminary: within 10 Min.
Final: kids: : 3 :
Primary 1,2 4 :
: 3,4 5 :
: 5,6 6 :
Junior high 7 :
High school(P/A ) 7 :
Univ.-over (P/A) 8 :
Stringed Dpt.
Preliminary ; within 10 Min.
Final ; kids : 4 :
Elementary 1,2 5 :
: 3,4 6 :
: 5,6 7 :
Junior high 8 :
High school(P/A) 8 :
Univ.-,pro/ama. 8 :
Chamber Dpt. Preliminary within 10 :
Final : 15 :
Recital Dpt. Around 20 Min. for the preliminary and 25 min. for the final.
(Other remarks on playing)
AA; For the recital Dpt. players: Total playing time will be around 45 min., (preliminary plus final.) Also the music shall be different preliminary and the final.
BB: If the playing time is shorter than the above, no problem.
CC: The above mentioned time is counted from your appearance
on the stage.
DD: For the finals, above performance time could be shorter,
according to the number of the finalists.
EE: In any case, we ring the bell, when you stop the performance. However, you can choose any longer music. In this
case also, you just stop playing when the bell rings.
2) Application and the period
AA: 2018, Jan.4 (Thu)- Feb.23 (Fri) until 12 o'clock at our office.
BB: Players exempted the preliminary, also please apply
During the time.
CC: Please apply after your payent.
3) Announcement of the result of the preliminary.
We announce it on our home page, at early Mar. 2018.
We also announce the Reception Number for the finalists.
Although judgement is not open for the public,70 marks
will be the line for preliminary. If unfortunately you can not pass for preliminary, our comments will be sent to you, which
we hope it will helpful for your future progress .
4) Other remarks.
AA: The grade will be it at the end of 31th March. 2018.
BB: The same piece allowed for both Preliminary and
the Final.
CC: You do not receive any demerit marks if you cut(edit)
the tune for consideration for the time limit.
DD: If the recorded time for the preliminary is longer than
the proposed time, not necessary to shorten it. Shortening time itself does not give you any demerit.
EE : We will not have 2 pianos on the stage. So, it will be the entry for one piano with 4 hands performance for chamber music.
FF : For University and over the 18 years old (professional) : students/graduates of music university. But the students who do not special study of music, they can apply.
Amateur Applicants : players belongs to any music related group and music school can not apply here.
GG : Either piano or violin should be in the chamber music group.
HH : The above mentioned performance time is just a standard.
5) On the final.
Attached hall A shows Mar 27/28 ,Tiara Koto
: B : Mar 29-31,Toyosu Civic Center
AA: How to announce the results of the final.
We honor and give award at the reception on the day.
After honoring, we also give you our comments on your performance.
BB: How to judge: According to the several judges' remarks, we put aside the highest/lowest points and average of the balance shows the order. We do not publicize each specific remarks.
CC: When you play at the final, you are supposed to submit
documents and asked for the payment for the final. If you
do not play for the final, please let us know.
DD: For the players for the final, the Time Table will be sent.
if you are in abroad please let us know your mail number so that we can send it in the form of PDF.
EE: Please come to the hall with ample time before reception time, so that you can be flexible, according to the situation of other players' situation.
FF: No specific dress code, although most of them are dress or suit. But any neat dress will do.
GG. We have a waiting room for both men and women, but no rehearsal rooms/spaces. If needed, please prepare it at your end.
6) Participation fee (yen)
Piano/ Strings kids, elementary 1/2 Pre.\ 9,000 Final \14,000
Elemental 3/4-mid.high 9,000 16,000
High school (Pro/Amateur ) 9,000 18,000
Univ.over the 18 years old(Pro/Amateur) 10,000 21,000
Chamber 13,000 23,000
Recital 13,000 28,900
7) Prizes
Piano/Strings Kids Dpt.
1st-5th medal and certificate of merit
   others: certificate of merit
Primary 1~6 / Jr. high / High school / Univ.-over 18 years old
(Pro./Ama.)
1st-3rd :prizes and certificate of merit
4th-5th :certificate of merit
Chamber Dpt. No age limit
1st-3rd :prizes and certificate of merit
4th-5th: certificate of merit
Recital Dpt. over the 11 years old
1st-3rd prizes and certificate of merit.
Also entitle to perform recital at Tateshina Music Festival.
4th-5th : certificate of merit
For all the above winners , followings are also given.
AA: The right to participate in the concert for the winners.
BB: According to the order, you will get the recommendation for
Osaka International Music Competition, final or district final.
CC: Right to perform at Piediluco I'national Music Festival.
( The air freight, hotel charges are at your own cost.)
8) Special prizes
[ Prizes from the chief of judges]
Right to join in the work shop of Piediluco Festival.
( other fee of the participation are not including.)
[ Osaka I'nal Music Competition Prize.]
We associate with the completion and if chosen, you will be invited
to free foreign professors lessons. ( Transport, hotel, etc; on your burden.)
The latest information for 12th(2018) Cecilia International
Music Competition.
We are looking forward to hearing your beautiful performances
in the competition.
1: Date, Hall ( for the final)
3/27 (Tue) Strings Dpt : for Kids ,elementary, Junior high school
at Tiara Koto.
3/28 (Wed.) Piano Dpt : for kids, elementary, junior high school
at Tiara Koto.
3/29 (Thu) 18:45- Chamber music Dpt : at Toyosu Civic center
3/30(Fri) Strings Dpt : for high school, P/A, university, over the 18 years old
Recital Dpt : over the 11 years old
at Toyosu Civic Center.
3/31(Sat) Piano Dpt : high school, P/A, university, over 18 years old
Recital Dpt : over the 11 years old
at Toyosu Civic center.
2) Other information
AA. For finalist players of the Osaka International Music Competition could participate our final round.
BB. Revised notice of exemption of the semi final for the elementary Dpt. (only)
Only for the prized elementary, semi final will be exempted for max 3 years, (countable from 11th,2017) ,even dpt. changed.
Example:
A: prized at elementary 2: up to the grade 5, exempted for
preliminary. ( applicable for another Dpt. too)
B: Prizes at elementary 4, grade 5,6, exempted, and also possible for crossing over the dpt. but from Junior high, to participate from preliminary as usual.
C: For Kids, Junior high, high school, Univ.-over, are not applicable for this rule.
(All rights reserved, and no copy allowed unless permitted)
Cecilia International music Competition office
ceciliaimc2015@yahoo.co.jp
Corp. Nomura Roppongi 1, room 405 (c/o Amati Music)
Roppongi 3-4-2, Minato-Ku, Tokyo (106-0032)
1) Applicable date: Jan.4(Thu)- Feb.23(Fri.)
There are several discounts for early time apply.
Until 2018.31 Jan. -\2000
Until 2018.10 Feb. -\1000
2) Please apply with your payment and sending application form in same time.
3) You can apply by [web application form] in this site or you can[ postal mail] it to our office.
(Applicants by web could have merit -\500)
4) How to send media for the preliminary ;
Using postal mail: Together with application form, you post
the media. In this case, please write on it your name and dpt, for which you participate.
Using youtube: Firstly you put your performance on youtube. And you must write URL, for web application.
There is discount for youtube aplicants. (-\500)
5) When you apply for preliminary, the title of the piece for the final also requested to fill in. Please do it without fail.
6) Exemption for the preliminary(starting from the final)
Basically max 3 years, preliminary is exempted for the winners of the Cecilia Int. Music Competition if applying for same department.
However, only for the prized elementary, preliminary is exempted even if dept is changed
For example:
AA: prized at elementary 1.2 grade depertment up to the grade 5.6 grade depertment,
CC: Other dpt., such as kids, junior high, high school, university-over the18 years old,
no exemption of preliminary with cross over the Dpt.
DD: After payment for the final, please send application form to our office.
Please write the name of the competition recommended
at the column of your [musical career.]
If you use web application, please check mark in the place of [exempted]
Room 405, Corp Nomura Roppongi-1,
Roppongi, 3-4-2 ,Minato-ku, Tokyo (106-0032)
c/o Amaty music
Cecilia International Music Competition office
7) On several discounts of the participation fee
a) On the web discount
If you web apply on our home page, 500 yen is to be deducted
from the participation fee.
b) On the youtube discount
If you supply your media for the preliminary by youtube,
500 yen is to be deducted from the participation fee.
c) On Early Payment discount
If you pay by Jan.31st,2018, 2,000yen is to be deducted from the participation fee, and by Feb.10, 1,000 yen is to be deducted.
d) In any case, please pay the fee ,deducting your applicable
discount fee.
8) Payment to: Either bank will do.
MITSUI SUMITOMO Bank,
Roppongi Branch, Futsuu Acount, 7591464
a/c name; Cecilia Kokusai Ongaku Konku-ru,Daihyo Yoshikawa Asako
9) Other notices;
a) Bank charge will be burden by the applicant.
The fee can not be returned from any reason.
b) The fee for the preliminary and the final is different.
Please make it sure at the payment.
c) Our clerical procedure for the application will be completed when documentation and the payment confirmed by us.
d) When you apply , please be precise for the minutes of your performance for both preliminary and the final.
e) As for the music for the final, no change is allowed from any reason, after your application.
f) Finalists shall be disqualified if you play other than applied
music.
g) When your reception procedure completed, we will confirm it by e-mail.
h) If you want to receive our mail, please make it sure checking your mobile, so that you can receive ours, [@yahoo.co.jp]. We found many cases in every year, you can not receive ours by not doing domain alteration.
i) In case of postal application , presented material can not be returned. No guarantee for the items lost during mailing. Please fill your name and depertment on the material so that we can realize whose one.
j) If you apply finished, still no confirmation from us after 1 week, please contact our mail (ceciliaimc2015@yahoo.co.jp).
k) The time, date of the competition can not be changed.
Please come to the hall, with ample time allowances.
l) Any claim will not be accepted.
J) Please contact to:
Corp. Nomura Roppongi 1, room 405
3-4-2, Roppongi, Minato-ku, Tokyo (106-0032)
c/o Amati Music
Cecilia International Music Competition Office
e-mail: ceciliaimc2015@yahoo.co.jp
Tel: 070-1570-9888